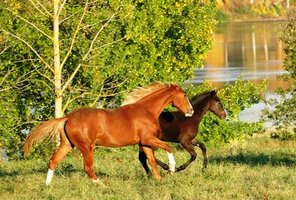 Optimal raising conditions - starting from the day of birth - set the stage for a healthy and successful career for the horses.
At Northern Jumping the young horses have the opportunity to grow up in a natural and strengthening environment.
To strengthen the bones, muscles, tendons and ligaments and respiratory ducts, it is important for the growing horses to have daily exercise and movement on canter-capable-surfaces in the fresh air.
The best possible conditions for pregnant mares and for rearing youngsters are guaranteed.